Meet Our Team
When you visit Eby Family Dental, you are met by our positive, enthusiastic, and friendly dental team. We make your dental health and personal comfort our top priorities so that your experience here is the best it can be. We look forward to meeting you when you visit us in Fort Atkinson, Wisconsin!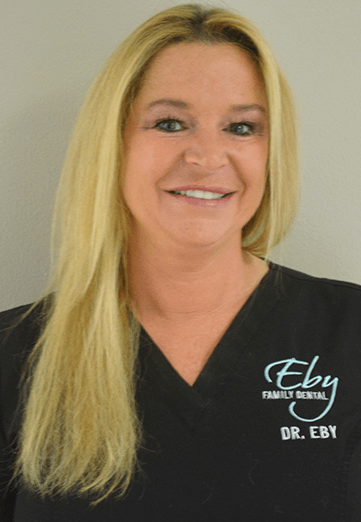 Dr. Stacey Eby
Hi! I'm Dr. Stacey Eby. I graduated from Marquette University Dental School in 2005 where I obtained my professional degree in dentistry. I believe that everyone deserves a beautiful and healthy smile, so I will go above and beyond to help my patients achieve that. I also believe that we all need to give back, so community involvement is very important to me and to my staff. I have one son, Conrad, who is in high school and in our spare time, we enjoy hiking, snow skiing, boating, Ping-Pong, and swimming.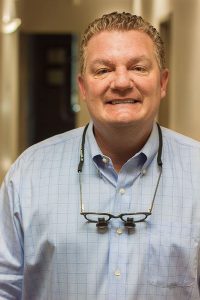 Dr. Joe Favia
Greetings! I am Dr. Joe Favia. I graduated from Loyola University School of Dentistry in 1993. Since then, I have attended extensive seminars at the prestigious L.D. Pankey Institute for Dental Education and Peter Dawson's Center for Advanced Dental Studies. I have also completed over 500 hours of quality continuing education on all aspects of dentistry. I reside in Arlington Heights, IL, with my wife Julie and three children and fill my private time with family, soccer, charity work, golf, travel, and much more. I am the founder and Chairman of the Windy City Classic Celebrity Golf Tournament since 1997. Over $1 million have been raised for the University of Chicago Cancer Research Foundation in memory of Walter Payton and Jim "Jimmy V" Valvano.
Dr. Peter Worman
Hello, my name is Dr. Peter Worman. I attended UW-Madison before graduating from Marquette University School of Dentistry in 1989. I worked as an associate dentist in Waukesha before moving to Madison and joining forces with Dr. Byce. I have worked with the Give a Kid a Smile program and Inner Faith Hospitality Network, both in Madison. When not in the dental office, I enjoy spending time with my wife and four children, golfing, and road biking.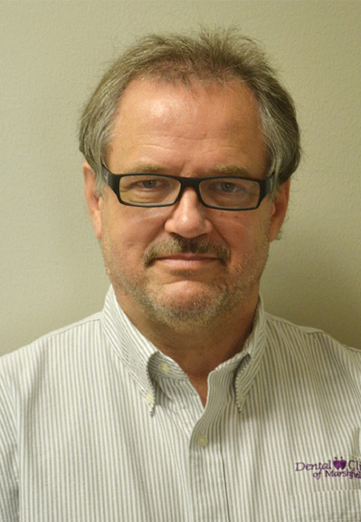 Dr. Don Kwarciany
Dr. Don comes to Eby Family Dental on Fridays and focuses on pediatric dentistry.
Meet Our Hygiene Team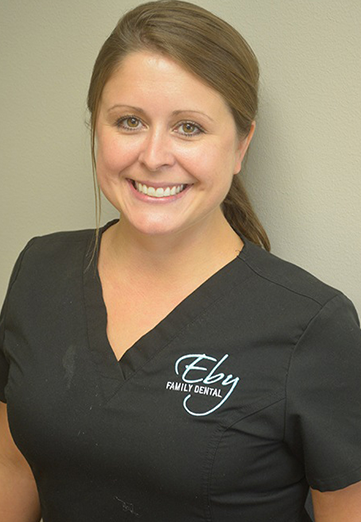 Kelly, RDH
Hello – I'm Kelly. I am a Registered Dental Hygienist with an anesthetic certification. I thoroughly enjoy providing optimal patient care and education to help improve our patients' oral health. Currently, I live in Fort Atkinson with my amazing husband and together, we enjoy raising our five wonderful children. Some of our interests are family time, traveling, and outdoor adventures with our dog. In the summertime, we also like to garden.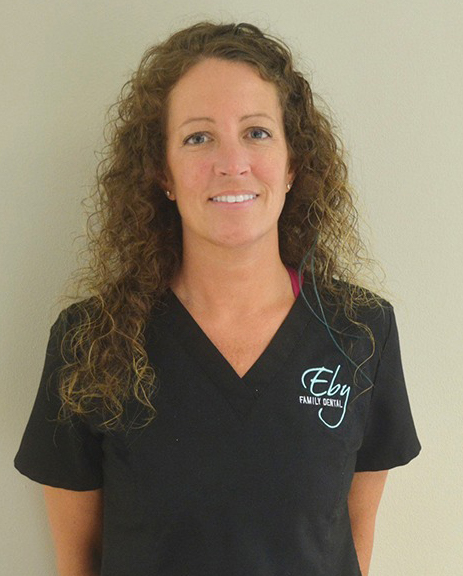 Ryann, RDH
Hello, my name is Ryann. I have been an RDH for 23 years. It has been a very fulfilling career especially since I am working and establishing connections in the community where I grew up and am now raising my family. I am a busy mother of five children that keep me very active! We enjoy the outdoors and love to garden and raise chickens.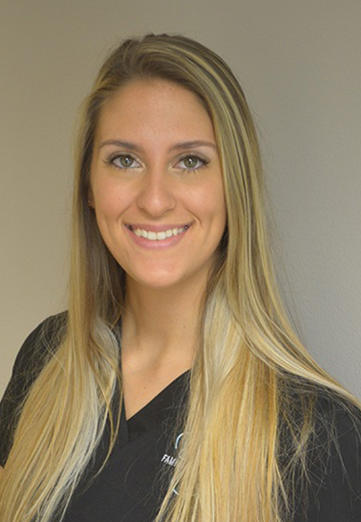 Hailee, Hygiene Assistant
Hi, my name is Hailee. I am a hygiene assistant and work with Ryann at Eby Family Dental. One of my favorite things about my job is educating children of the importance of good oral hygiene. I can truly say that I love my job and the people I work with! In my free time, I enjoy being outdoors, and going on adventures with my dogs Cody and Paisley. Together we go hiking, kayaking, fishing, and camping. I grew up on a farm and that's where my love for animals and the outdoors began. And recently, I purchased my first home.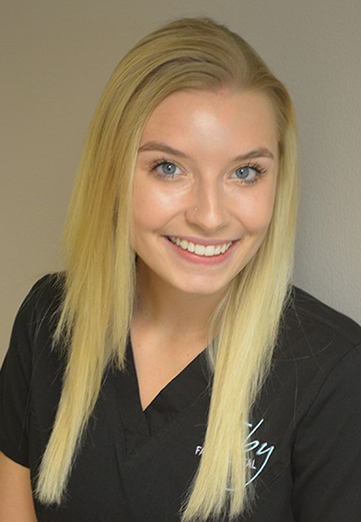 Taylor, Hygiene Assistant
Hello, I'm Taylor. I have been working at Eby Family Dental since February 2017. I work with Kelly in hygiene. This is my first job in the dental field, and I'm learning a lot from Dr. Eby and Kelly that will help me in my future career. I am thankful for their mentorship. I am currently taking my pre-requisite classes for the dental hygiene program at MATC. In my free time, I enjoy spending time with my family, being around my cat Onyx, and shopping at TJ Maxx!
Meet Our Dental Assistants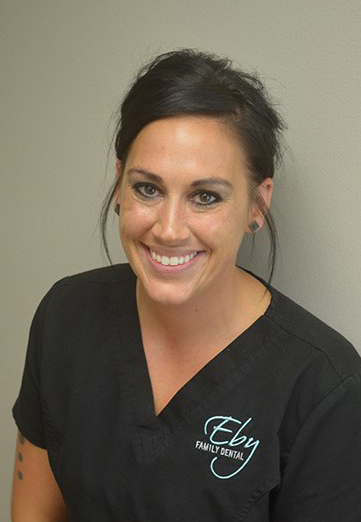 Ashley, Dental Assistant
Hi, my name is Ashley and I've been with Dr. Stacey Eby and her practice for four years as a dental assistant. I am 33 years old and have a 13-year-old daughter. I am outgoing and love anything to do with nature and the outdoors. My favorite place to go is Devil's Lake and I love canoeing, kayaking, and painting. I took an interest in the dental field to see and make people happy. A smile, in my opinion, is one of a person's best attributes. When we tend to the cosmetic needs, the smile at the end of the process is priceless!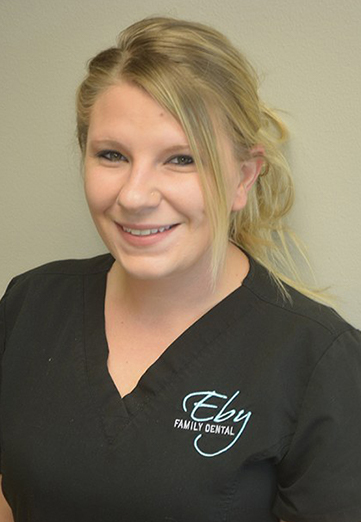 Brooke, Hygiene Assistant
Hi, my name is Brooke and I am currently a dental assistant at Eby Family Dental. I am certified by the National Dental Academy for Dental Assisting. I have been at Eby Family Dental since 2017. I have also volunteered my time with the Community Dental Clinic in Fort Atkinson. I previously worked as a teacher's aide, working with children who have developmental disabilities. My favorite part of my job at Eby Family Dental is having opportunity to learn more about the dental field. Outside of work, I enjoy seeing local bands, spending time with my family, and being outdoors.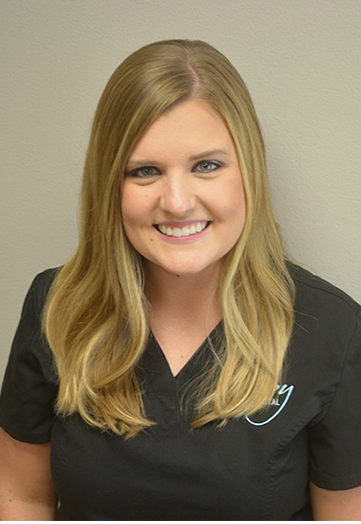 Courtney, Dental Assistant
Hi! I'm Courtney, and I am a dental assistant at Eby Family Dental. I graduated from Madison College's Dental Assistant Program in 2010 and have worked with Dr. Eby since 2015. I am currently in the Dental Hygiene Program at Madison College and expect to graduate in May 2019. I love working in dental because of all the amazing patients I get to meet. I love making a difference in people's lives and helping people build their dream smiles! In my spare time, I enjoy spending time with my husband and our dog, Violet, and spending as much time with our families as possible.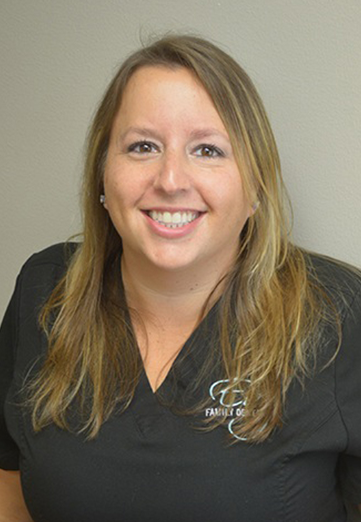 Michelle, Dental Assistant
Hi! I've worked with Dr. Stacey Eby for about 8 years. I specialize in orthodontics at the clinic. I love to see patient's progress throughout treatment and the smiles they have when they finish. The boost in self-confidence is absolutely amazing! I have two sweet dogs that keep me busy and I love to walk. In the fall and winter, I love to bow hunt up north with family.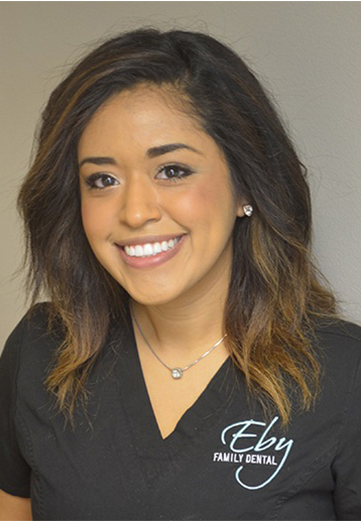 Teresa, Dental Assistant
Hello! I'm Teresa! I'm a dental assistant for Dr. Eby. I graduated from Blackhawk Technical College in May of 2016. I started working with Dr. Eby in October 2016 and I truly enjoy it. I love making people laugh and especially helping others achieve their smile goals. I currently reside in Jefferson with my high school sweetheart and our two handsome boys. In my spare time, I love to run and do arts and crafts. I can't wait to meet you!
Meet Our Front Desk Team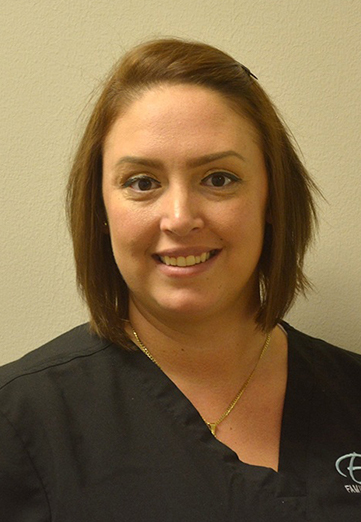 Cassandra, Reception and Insurance
Hi, my name is Cassandra. I have worked with Dr. Eby since 2015. I am one of the front desk receptionists and I love being your first point of contact when you come into our clinic! I have an Associate's degree in Medical Administration, and love helping to schedule appointments and figuring out insurance benefits. I am blessed to have a beautiful little family and love being the mom of two adorable children. We enjoy going on family mini-trips, visiting with family and friends, camping, and being outdoors. I look forward to helping you smile!
Kathy, Reception and Benefits
Hello! I'm Kathy! I'm one of the front desk receptionists to greet you and check you in for your visits. I have a very bubbly personality and will ALWAYS greet you with a smile. I try to make your check-in process fun and not so robotic. I've been working for Dr. Eby since October 2016 and couldn't be happier! I'm a single mom of one amazing daughter who joined the Army right out of high school. She recently re-enlisted and is now stationed at Fort Carson. In my spare time, I enjoy hiking, biking, fishing, reading, and almost anything to do with the outdoors. I also enjoy watching hockey, NASCAR, football, basketball, and baseball.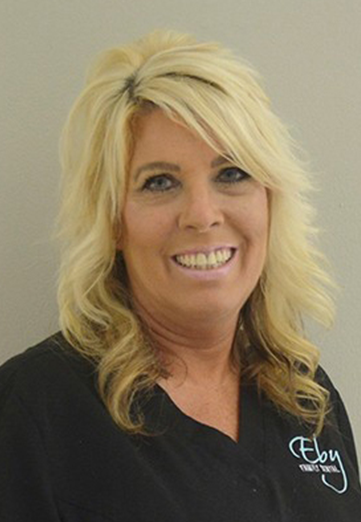 Kim, Billing and Check-Out
Hi, I'm Kim! I started working with Dr. Eby in December of 2016, but I have been in the dental field for over 20 years. I'm the person who will check you out at the end of your visit and answer your billing questions! When I'm not at the office, I enjoy spending quality time with my family and friends. I also enjoy camping, hiking, boating, and gardening. I look forward to meeting you soon!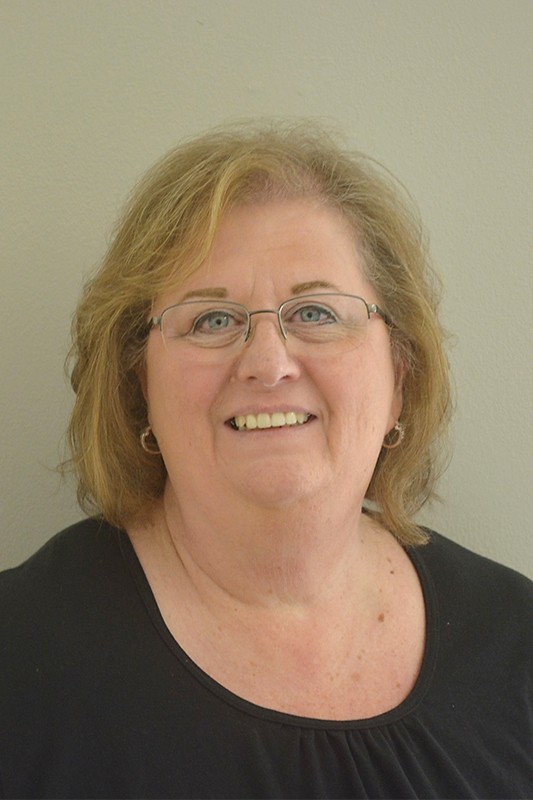 Lori, Insurance Administration
Hi, I'm Lori. I started working for Dr. Eby as her son Conrad's teacher in September 2016, but have moved on to taking care of insurance payments now that Conrad is going to high school. Before coming to Eby Family Dental, I taught high school classes for 18 years, and before that, worked as a computer programmer. I have been married to Larry for 30 years and we have four grown children and nine grandchildren! We have a face painting business that we operate on weekends and I enjoy almost any creative, musical, or artistic outlet I can find! When I'm not spending time with family or friends, I like to do puzzles, read, play games, and I love to cook!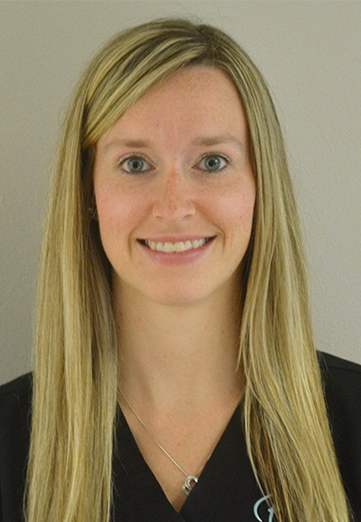 Zoey, Reception and Check-In
Hello – My name is Zoey. I started working with Dr. Eby in December of 2017. I am your main point of contact when coming into our clinic. I love helping patients schedule appointments to meet their dental smile goals! I have an associate's degree as an administrative professional and have eight years of experience as a scheduler. I recently got married in October 2017 and love spending time with my husband, our black lab Bodie, and our friends and family. In my spare time, I enjoy archery, walking Bodie, spending time up north at the family cabin, snowmobiling, and four-wheeling.